In this article
Umd-secure network retirement and migration to eduroam
When was umd-secure retired?
Umd-secure was turned off on July 29, 2019.
Why was umd-secure being retired?
The use of eduroam provides all customers with the added benefit of seamless wireless connectivity when visiting other college campuses.
My Windows laptop is joined to the DIT Active Directory domain via umd-secure. Will this still work on eduroam?
Yes. Eduroam has been set up in such a way that this will continue to work.
How do I get connected to eduroam?
Get connected by following these instructions: Guide to the eduroam Wireless Network.
Can devices on eduroam communicate with each other?
No. This helps protect your device and your data from others.
Umd network retirement: Guest, bulk and sponsored accounts
When will umd be retired?
Beginning August 13, 2019 the umd wireless network will no longer be available.
My department uses the bulk account registration feature of umd. We create batches of individual accounts for customers that can be used for 30 days. Will this service still exist?
Yes, it will. The registration process will be the same. The only difference is your customers will log in with their account credentials using the umd-guest network.
My department created single-day wireless accounts for use at many of our events. Will this service still exist?
Yes, it will. The registration process will be the same. The only difference is your customers will log in with their account credentials using the umd-guest network.
Umd-iot
What is umd-iot?
It is a wireless network for connecting browser-less and smart devices, such as Smart TVs and gaming consoles. "Iot" stands for internet of things.
Who will be able to register devices on umd-iot?
Resident students and LAN administrators will be able to register devices for umd-iot using a process similar to the one currently used for wired devices.
Faculty and staff who want to connect devices to umd-iot should coordinate with their LAN administrators to do so. Find your LAN administrator by department: Department Representatives, Business Managers and LAN Administrators.
General network questions
What wireless networks are available at UMD?
UMD provides wireless network connectivity to faculty, staff, students and visitors through three wireless networks:
eduroam.
umd-iot.
umd-guest.
Eduroam is a secure, world-wide roaming internet access service developed for the international research and education community. Read Guide to the eduroam Wireless Network to learn more.
Umd-iot is a secure wireless network for connecting browser-less and smart devices, such as virtual assistants and gaming consoles. "Iot" stands for internet of things.
Umd-guest is a wireless network is available for guests and visitors. Learn how to connect to the umd-guest wireless network.
What kind of wireless coverage is available at UMD?
The university's wireless network is one of the largest in the country with more than 8,000 access points providing convenient wireless access in almost all campus buildings, including every academic building and residence hall as well as the Stamp Student Union and McKeldin and Hornbake Libraries. There were approximately 47,000 connected devices each day of the Fall 2018 semester.
Is web performance the same on the wireless network as it is on the wired network?
No. Connection speeds on a wireless network can vary due to a number of factors. These include but are not limited to:
Distance from an access point (that is, the device that sends Internet signals to your computer through the air.
Number of people connecting to an access point and what they're doing online.
Walls, metal objects or electronic devices causing signal interference.
The wireless network is intended as a supplement to the wired network to allow you to be mobile and to connect when you're away from your dorm room or office. It can support online activities like email and general web surfing but is not intended to support bandwidth-intensive activities such as audio/video streaming or large file transfers.
When you're in your room or office, plugging into your data jack will give you a more reliable connection than logging onto the wireless network. It gives you a dedicated connection that is not shared with others.
Can someone snoop on my communications over the wireless network?
The Division of Information Technology (DIT) highly recommends that the university community take advantage of the eduroam wireless network, which encrypts all traffic using WPA2 technology.
What is the Wireless Onboarding Tool (SecureW2)?
The Wireless Onboarding tool called SecureW2, is a wireless network access tool that quickly and safely verifies your identity and grants access to secure networks. It will optimally configure your device and automatically connect after the initial setup. Download the wireless onboarding tool from http://setup.wireless.umd.edu/.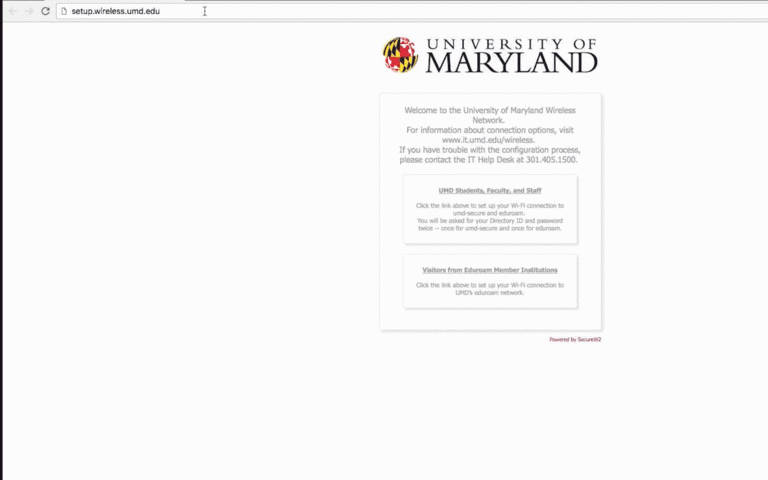 Will my iPhone work on the wireless network?
Yes, the recommended wireless network for iPhones is eduroam.
Does my dorm room have wireless coverage?
Yes! All university residence halls and Fraternity Rowhouses, as well as the South Campus Commons and University Courtyards communities, have full wireless coverage.
If there is full wireless coverage in the residence halls, do I still need to use my wired network connection?
The university's wireless network is intended to allow customers to perform basic online activities, such as email and general Web surfing, when they're away from their main network connection. If you're in your residence hall room, you will have a more reliable network connection if you plug into your wired data jack. Visit the IT Library and sort for the category Networking/Telecommunications, then the subcategory Dorm Network to obtain information on connecting to the network.
How do I set up a wireless router/access point?
As stated in the "Student Guidelines for Network Computer Use" that each student agrees to during the Residence Hall network registration process, you MAY NOT install a wireless access point. Only access points installed by DIT are permitted in residential buildings.
Likewise, in order to assure the highest quality of service for all customers of the wireless network, DIT asks that members of the campus community refrain from installing access points as this may lead to radio frequency interference or customer confusion.
Why am I sometimes disconnected from the wireless network without warning?
The nature of wireless connections makes them prone to disruption from other devices, such as wireless telephones, microphones, and video systems; microwave ovens; certain types of motors; and other devices that send signals through the air. Unfortunately, sporadic loss of connectivity must be expected while using the wireless network. Any activities that require a guaranteed connection should be conducted on the wired network for the best results.
Can I give my parents or my visiting friend access to the wireless network while they're on campus?
Guests such as parents and friends can use the umd-guest network to get wireless access while visiting campus. Follow these instructions to use umd-guest: Connect to the umd-guest Wireless Network.
Faculty and staff can sponsor visitors for temporary associate access to the wireless network by using the Associate Wireless Access Tool. The umd network is retired. Visitors must use the umd-guest network. Students may not sponsor associate wireless access.
Do not share your own credentials with anyone else. As per the Student Guidelines for Network Computer Use, you are responsible for everything that your computer does whether or not you are aware of the activity.
Can the signals from the wireless network hurt me?
The FCC with its action in ET Docket 96-8 has adopted a safety standard for human exposure to radio frequency electromagnetic energy emitted by FCC certified equipment. The University of Maryland uses Cisco wireless LAN products, which meet the uncontrolled environmental limits found in OET-65 and ANSI C95.1, 1991.
How do I get wireless network service installed in my building?
Get in touch with us at the Service Desk and we'll route your request to the right people.
Can I use a wireless device that doesn't support a Web browser or 802.1x authentication on the wireless network?
You can connect your browser-less smart devices to umd-iot. You can register up to 6 devices (wired and wireless). Your device must allow WPA-PSK (pre-shared-key).