Parent Categories in the Service Catalog
Table of contents
The Service Catalog in the IT Support website is organized hierarchically. There are 10 parent categories. A Service Offering must belong to at least 1 parent category, but may belong to more.
Sub-categories exist but are not managed. They can be used to further define and describe Service Offerings.
List of parent categories
The following list contains the parent categories by alphabetical order and the types of Service Offerings associated with them.
Accounts: Account preferences, password management, network access, individual storage options, etc.
Administration and Business: Financials, data warehouse, student information systems and hosting services.
Communications and Collaboration: Contains service offerings associated with email, web conferencing, teleconferencing, telephones, G Suite, group messaging and wiki hosting.
Consultation and Training: Training opportunities and individual consultation with experts in design, analytics, research, security, classroom technology and accessibility.
IT Accessibility: Website scanning and assistive technologies.
Network, Servers and Storage: Server management, network backbone, central storage and backup and authentication/authorization.
Research: Data storage, backup, file management, survey, basic computing, high-performance computing, colocation and archiving solutions.
Security: Virus protection, multi-factor authentication and encryption.
Software and Computing Devices: Software downloads (TERPware), equipment and supplies purchases, technology discount programs and hardware repair.
Teaching and Learning: Enterprise Learning Management Systems (aka. ELMS-Canvas), classroom technologies, instructional design and instructional media.

Service Catalog category hierarchy
A Service Offering must belong to at least 1 parent category, but may belong to more. Here is a flowchart example of how parent category and service offerings may interact: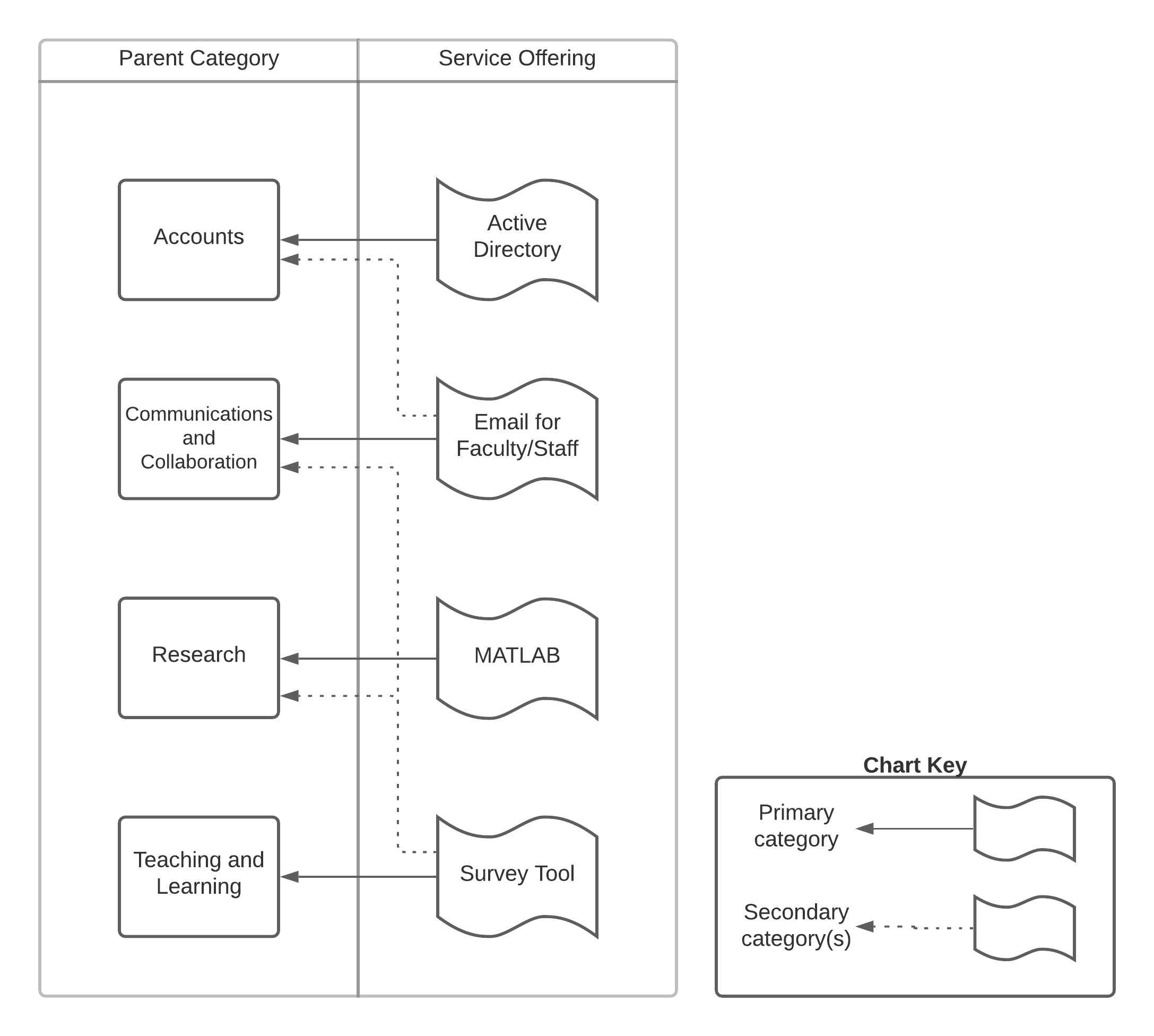 Description of flowchart
The flowchart shows that Service Offerings may have a one-to-one or many-to-one relationship with parent categories. There are 4 example parent categories and 4 example Service Offerings. While every Service Offering has a primary parent category, they do not all have a secondary parent category. For example: The Service Offering "MATLAB" has Research as a parent category, but "Survey Tool" has a primary parent offering of Teaching and Learning and two secondary parent categories.
Parent categories do not relate to each other. Nor do Service Offerings relate to each other.