In this article
These essential features, services and settings are relevant to those affected by the email migration and are covered in this article: setting an email alias, managing Google Groups, shared and service accounts and booking rooms in Google Calendar.
Additional information, resources, support and training can be found at the email migration website.
Send emails from a different address or alias
This content was adapted from support.google.com. Visit the site for elaborated information about this feature.
Step 1: Add an address you own
NOTE: You may not have to perform steps 1 through 7.
On your computer, open Gmail.
In the top right, click Settings Settings.
Click the Accounts tab.
In the Send mail as section, click Add another email address.
Enter your name and the address you want to send from.
Click Next Step Send verification.
For school or work accounts, enter the SMTP server (for example, smtp.gmail.com or smtp.yourschool.edu) and the username and password on that account. For a school or work google account, you will need to turn on less secure apps or create an app specific password.
Click Add Account
Step 2: Confirm the address
Sign in to the account you added.
The confirmation email will arrive in your UMD inbox.
NOTE: In some cases, the confirmation message will come from your Gmail account.
Click the link.
Step 3: Change default "From" address
To always send email from a different address or alias:
On your computer, open Gmail.
In the top right, click Settings Settings.
Click the Accounts tab.
In the Send mail as section to the right of the address you want to use, click Make default.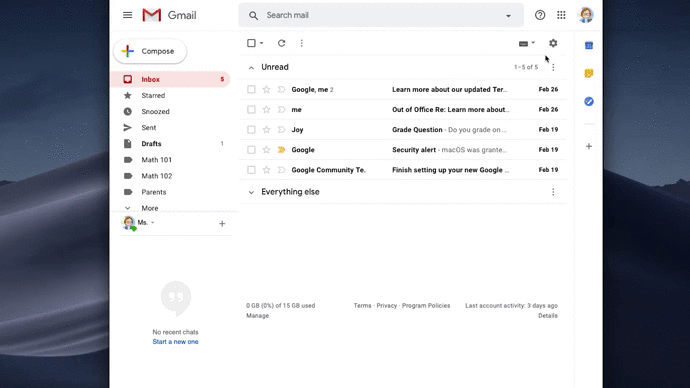 Book a room resource in Google Calendar
This information is from the IT Support website, itsupport.umd.edu. Click the link for elaborated information about these features.
A Google Calendar resource is "anything you schedule that isn't an event." Commonly, a resource is a conference room, but it may also be another shared asset, like a projector, 3D printer, company car, etc. View our IT Library article on adding a Room Resource to the Other Calendars List in UMD Google Calendar to learn how to subscribe to and view calendars across campus.
On a Google Calendar, create an event using your preferred date and time.
NOTE: You must remain in event editing mode to book a resource. If you are not in event editing mode, select the event from the Calendar and click Edit event in the event pop-up window.
On the right side of the screen, click Rooms to view resources.

Select the resource you would like to book. It will be added to the list of Guests. It will also be added to the Where field as the location of the event.
If you cannot find a resource, it may not be available at that date and time or you may not have permission to book it. Select Available rooms only to confirm the resource exists but is not available at the scheduled date and time.


Although you can add an unavailable resource to your event, it will not be booked and you will receive a notice that the room has declined your reservation.

Confirm the resource is available by clicking on the Find a Time tab (beneath the date and time). You will see the schedule of all event guests (whose calendar you have permission to view) and the resource's schedule.
NOTE: Despite selecting a time and date when the resource is available, you may still receive a message that the resource has rejected your event reservation, depending on how the resource is managed. For example, a resource administrator may manually decline your reservation.

This article contains information about Booking a room permissions in Google Calendar.
Shared Gmail accounts
Shared accounts allow up to 24 people to read and send mail from a shared @umd.edu email address. Shared mailboxes are recommended for organizations that require a single email address as a point of contact. Shared accounts offer the following features.
They can be requested using this form.
Delegate email access for up to 24 additional UMD Google accounts.
Shared Calendar that can be modified by all delegates and shared with any Google account.
Ownership and access to the account is controlled using SIMS (sims.umd.edu).


Can be renamed, provided the name is available.
Name and ownership changes can be done by the owner.

This article outlines what to expect when you have been granted access to a shared account.
Limitations
Allows for up to 24 people to share the account.
Can only be shared with accounts under @umd.edu only (excludes TERPmail).
Contacts are NOT included as part of a Shared Email Account.
Shared Accounts are not accessible through the Google mobile app.
Google Groups
A Google Group is a unique collaboration tool that can facilitate a simple or advanced mailing with advanced functions (like moderation), a question and answer forum, or an announcement board.
Owners and managers are controlled using SIMS (sims.umd.edu) and Group Membership is managed by owners and managers using the Google Groups web interface.
Some core features of Google Groups include:
Listserv style configuration that distributes received messages to all group members and allows members to respond individually or on behalf of the group.
Multiple configurable settings.
Member access for holders of UMD Google, TERPmail, other Google and non-Google accounts.


Any email account can be a member of a group outside of Google.

Interface that separates messages according to topic, similar to threading on a forum.
Ability to grant access to Google Drive content or invite to calendar events.
After creation, name changes may be done by the owner directly via SIMS (sims.umd.edu).
Advantage for using a Group
A Google group can restrict who can send email to that address. Or, the Group can be configured so that anyone with that address can send to it.
Features and uses
The four group types are:
Email list.
Web Forum.
Q & A Forum.
Collaborative Inbox.
They can be used as:
Forums or discussion boards.
Chat rooms.
Announcement boards.
Email Lists.
Q&A forums.
Collaboration (Collaborative Inbox).
Related information
Service Accounts
G Suite Service Accounts provide a non-SSO password and allow email connections via IMAP or POP. These accounts are intended to allow applications to have access to email services; they will not work using a web browser login, and the password should not be distributed. Name and ownership changes may be done by the owner directly after fulfillment via SIMS (sims.umd.edu). The password is generated for the owner of the account via SIMS (sims.umd.edu).
Reset the password through SIMS. Once it is created after the initial request, you would click Reset Password for the account to view the password.
Create, request, manage and delegate
These are links to articles that explain how to create, request, manage and delegate shared mailboxes, calendars, Google groups, shared accounts and service accounts.