In this article
Classic and Modern view dashboards
Your Webex site interface will be available in two formats:
Classic View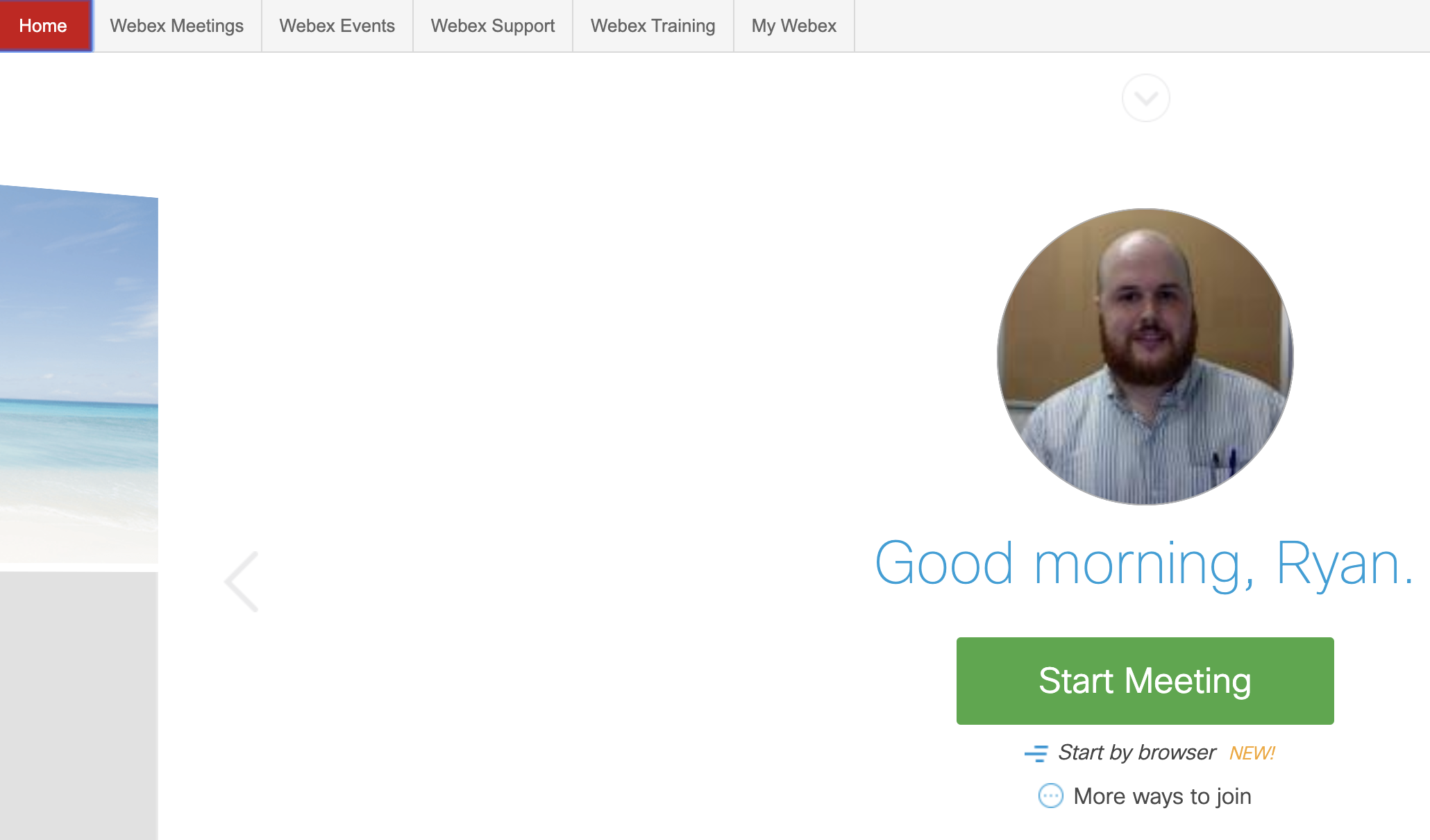 Classic view provides a clean UMD-branded interface with a navigation menu on the top of the screen that will links to the Meeting, Event, and Training Centers as well as the Support Center and the My Webex homepage.
Text-based navigation menus are available in each center, allowing you to quickly navigate the features of each center.
The Classic View is the default interface for UMD Webex. If you are interested in a dashboard-style interface that puts more features at your fingertips, consider the new Modern View dashboard.
Modern View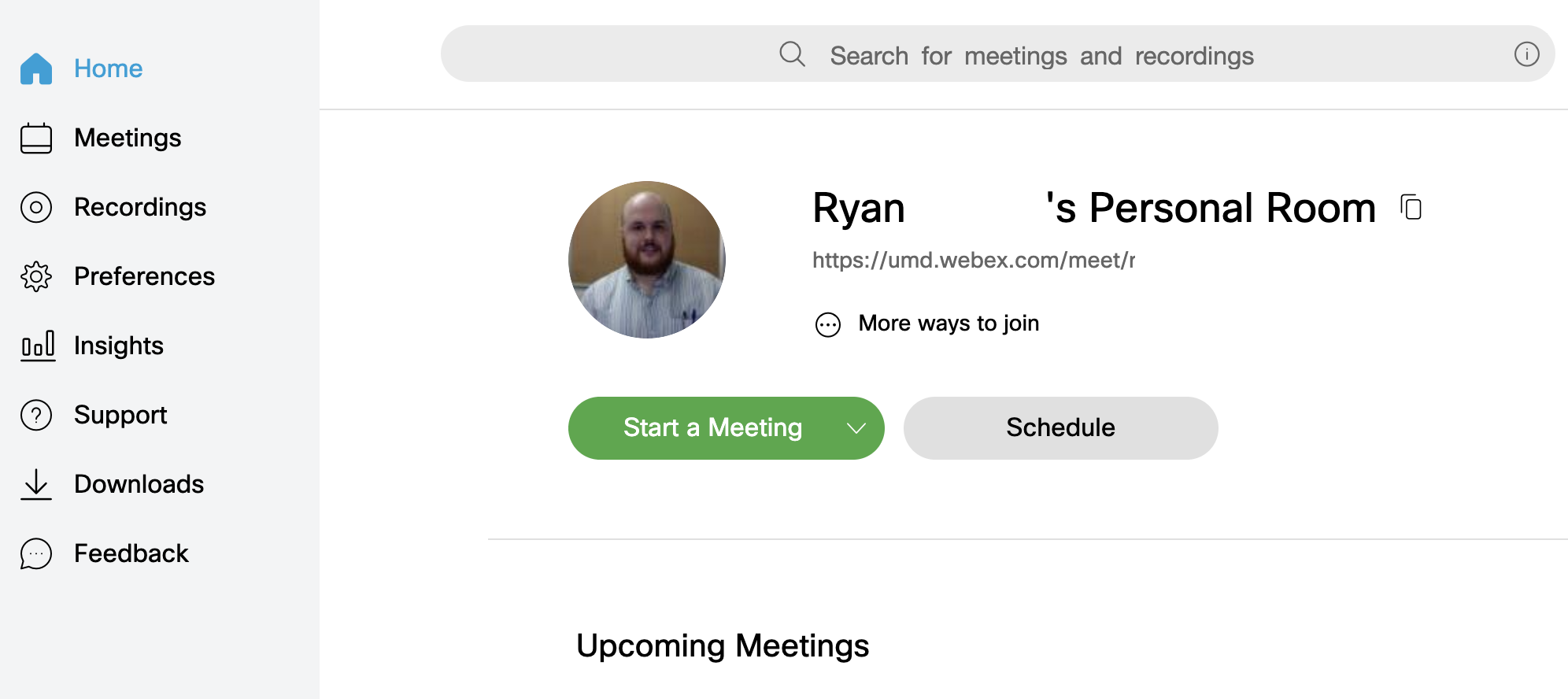 The Modern View offers a streamlined dashboard that gives you easy access to your most frequently used feature, including an icon-based navigation menu that allow you to jump to:
Meetings
Recordings
Preferences
Support
From this navigation menu, you can jump to your homepage by clicking Home.
The Modern View dashboard also provides a tile-style interface that lets you easily:
Go to your Personal Room
Search for and join meetings
Schedule new meetings
Keep track of upcoming meetings
View a summary report of meetings hosted (including total meeting minutes, average number of participants, etc.) from the Insights tie
You can also use the Modern View preferences menu to edit host Personal Identification Numbers (PIN).
The Modern View dashboard is updated monthly and will be growing to include more features found in the Classic View interface.
To switch to the Modern View, click the Modern View link on your Classic View homepage.
To switch back to Classic View, click the Classic View link at the bottom of the Modern View navigation menu.
To learn more, view the Use Your Cisco Webex Site in Modern View article at Cisco Collaboration Help.
Join or start a meeting in your browser with Webex web app
You can now start or join a Webex meeting directly from your browser with the Webex Web App. The Webex Web App allows you to quickly join Webex meetings and events without installing applications on your computer or adding more plug-ins to your browser. The Webex Web App will replace the retiring Webex App for Chrome.
To join a meeting in your browser, click the Join By Browser link on a Meeting Information page or your host's Personal Room page.
To start a meeting by browser, click the Start by browser link on your Webex homepage.
The following browsers support the Join/Start by Browser in the Webex Web App:
Internet Explorer 10 for Windows 7 and higher
Google Chrome 65 and higher
Firefox 52
For more ways to join or start a meeting by browser, view the Getting Started Joining a Meeting with the Webex Web App and the Cisco Webex Web App Version 3.10 Overview articles at Cisco Collaboration Help.
Expanded participant capacity in the Meeting Center
The Webex Meeting Center video conferencing capabilities have been expanded to support up to 100 participants with video devices.
My Documents feature removed
The My Documents feature within My Files has been removed.
The My Documents section of My Webex Files page will no longer be supported starting July 31, 2018. If you have files in the My Documents section of My Webex Files, we recommend saving them to your local computer before your site's next version update. Your My Recordings list will still be available in My Webex.
MP4 recordings in the Meeting Center
You will now be able to download Webex recordings as MPEG-4 (.mp4) files in the Meeting Center.
MP4 will be the default recording option for the Webex Meeting Center, making it easier for you to view your recordings on desktop and mobile devices.
MP4 recording will be unavailable in the Event and Training Centers.
To learn more, check out the Cisco Collaboration Help article on MP4 recording.
Wideband Super Voice Over Internet Provider
Webex will now support Wideband Super Voice Over Internet Provider (VoIP) from 50Hz to 12KHz to offer improved VoIP audio clarity.
Need help with Webex?
Contact the DIT Service Desk.
Got questions about using Webex for teaching and learning? Contact ltdesign@umd.edu.