In this article
Webex Teams is a collaboration platform that can help us get work done whether we're together or apart by using tools like team messaging, online meetings, and whiteboards. Webex Teams is available for free to staff and faculty.
Logging in
Webex Teams can be used in your favorite browser or by downloading the app. Now that you have access to Webex Teams, it's time to log in. Login with your university credentials. You may need to complete a multi-factor authentication prompt.
The basics
Find Navigation on the left. Access the Activity menu by clicking the

Activity icon. Messages appear in the center of the screen.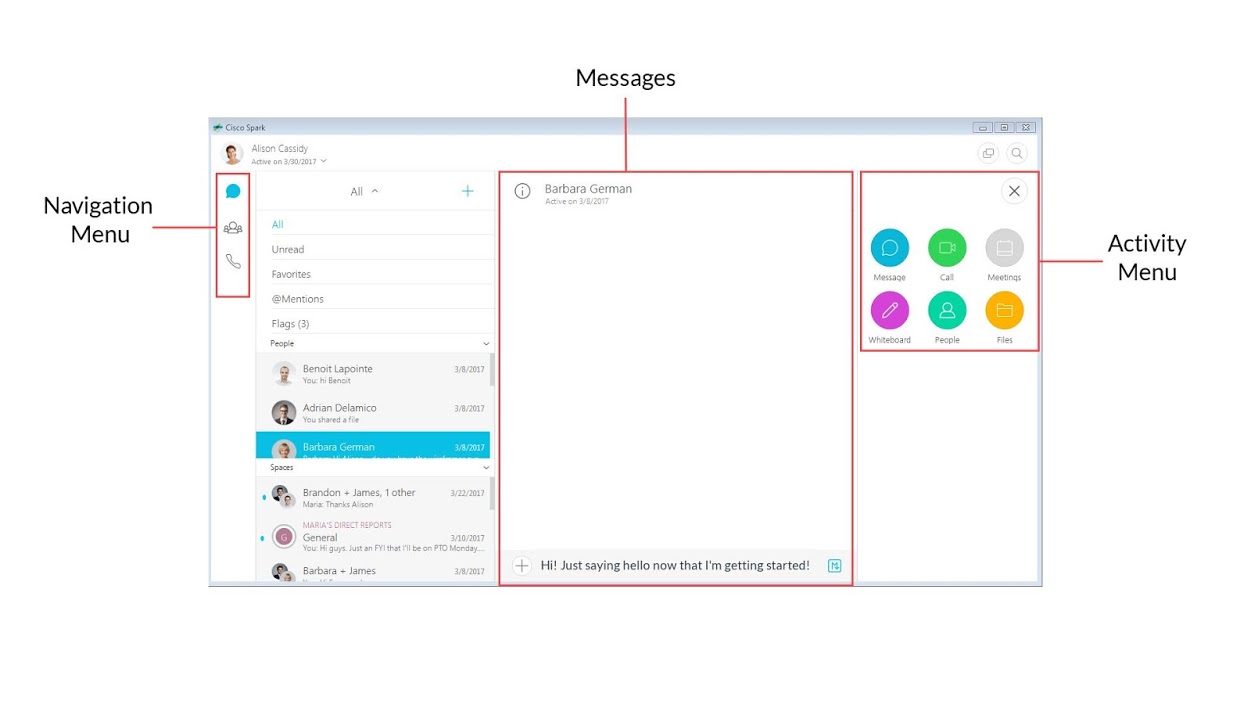 Spaces
A space is an area of collaboration, where people can share, chat, call, and meet on the issues at hand. Spaces are temporary (as long as they have people in them they exist) unless they are are part of a Team.
Teams
A team is a group of people that can share a defined number of permanent spaces that can be entered, left and entered again.
Read and send messages
Read new messages
Look for the blue dot beside names and spaces. Click to read the new messages.

Send a message
You can send a message directly to just one person or to several people.
To send a message to one person directly, click the plus sign

and choose Contact a Person and enter their email or name. Then type and send your message.
To send a message to several people, click the plus sign

and choose Create a Space. First, name the space. Then select Create, and enter the names and email addresses of the people you want to use the space.
The next time you want to send a message, you can select the name from either the People or the Spaces list.

Meet and call people
You can handle video calls and schedule meetings right from Webex Teams, whether you're using it on your computer or mobile phone. Calling is enabled, however the touch tones do not work yet.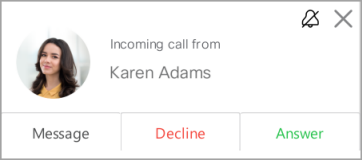 Call someone using their email, name, or phone number
Go to Call in the activity menu.
Use the dial pad to enter the phone number of the person you'd like to call. Or, enter their email address(es) into the search box.
Then select the Call icon.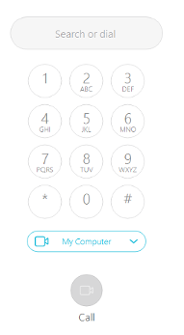 Call a person you're messaging
Go to the activity menu

and choose Call.

If you do this in a space with several people, everyone's app will ring, and you'll start a call for the entire space.
Schedule a meeting with other people in a space
Go to the activity menu.


Choose Meetings and follow the instructions in the app.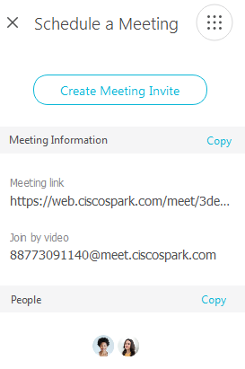 Share files and whiteboards
Get input on meeting agendas, give presentations, or share photos, screen captures, or videos.
Share files
Drag and drop your file into the space, and then press Enter.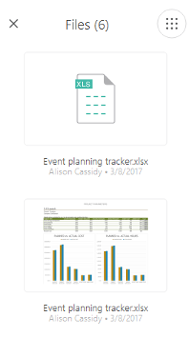 Create whiteboards
Go to the activity menu.


Choose Whiteboard.
Select New.


You can then share your whiteboard among members of your space.