In this article
When are approvals generated?
Depending on how the workflow for your assignment group is set up in ServiceNow, Incidents may need to receive manager approval before they can be resolved. An agent may be assigned to resolve the ticket.
If the agent is a member of a work group that requires manager approval before resolving an incident, ServiceNow will generate an approval request for the incident and send it to the workgroup's manager. If the agent is a member of more then one group, only one of the work group managers needs to approve the incident request in order for the resolution process to begin.
Upon approval, outstanding approvals will be marked as no longer required.
Finding approvals to reject or approve
Homepages and dashboards
Homepages and dashboards may be used to give you a view bird's eye view of you or your group's work. My Groups' Workload is a dashboard that can be viewed by any ITIL agent. It lists active work, SLAs, approvals, change, projects, and so on. If you are a manger, it shows the work of your employees and the groups you manage.
Access My Groups' Workload by typing the title in the filter bar of the left navigational menu in ServiceNow.

Email notifications
When an approval is generated, an email is generated. This email identifies what needs approval. You may approve, reject or view via links in the email. If you approve or reject via email, the body of your email will become comments. You will receive a email every Monday with outstanding approvals. Again, you may view, approve, or reject via this email with the included links.
My approvals menu
In ServiceNow, you may view and complete your approval requests via the My Approvals menu link. This will list any open approvals. Click Requested to view the form.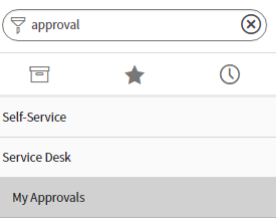 A read-only summary record will be displayed for review. From this summary, you can choose to Approve or Reject the incident.
Viewing an incident
The other way to approve the Incident is to view the Incident itself. Writing approved in the comments will not unlock an incident. Click the green I Approve button across the top left to unlock an incident.
My approvals needed
Approvals can also be accessed by clicking on My Approvals Needed in navigation menu at the ITSC home page.


Now, you can approve the incident.