Google Shared Drives Overview
Google Shared Drives are a great way to:
Keep files separate from any individual's account
Grant or revoke permission to a specific collection of files all at once
Organize files based on purpose or need
Shared Drives are Google Drive spaces that are separate from any individual user's account. This means that even if the person who created content saved in a Shared Drive leaves or has his or her account disabled, the content will remain accessible to everyone else in the Shared Drive. In fact, Shared Drives can technically have no members and the content will remain. Shared Drives with no members are not recommended, since no one would be able to use the content.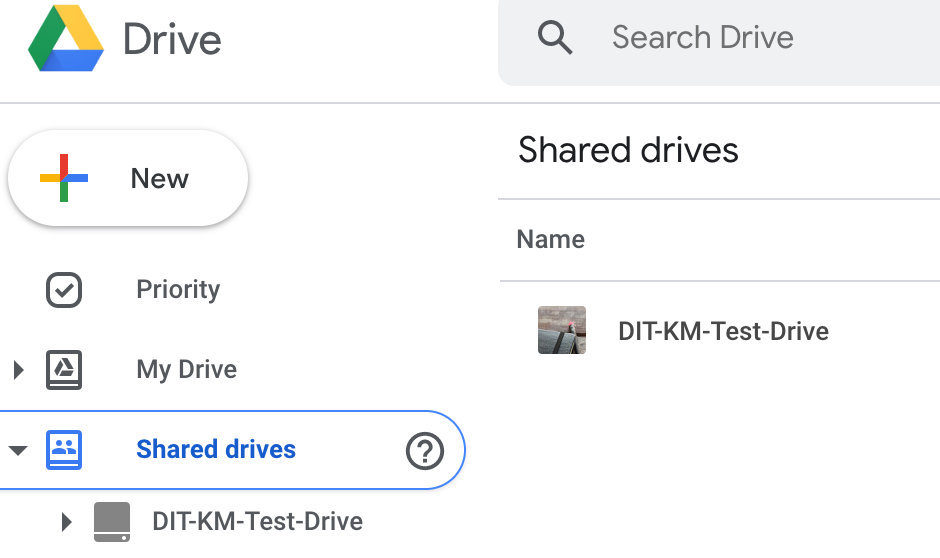 Shared Drives that you are a member of can be found by clicking the Shared drive icon that appears in your Drive navigation list.
You can create a new Shared Drive by selecting Shared Drives and clicking New -> Shared Drive.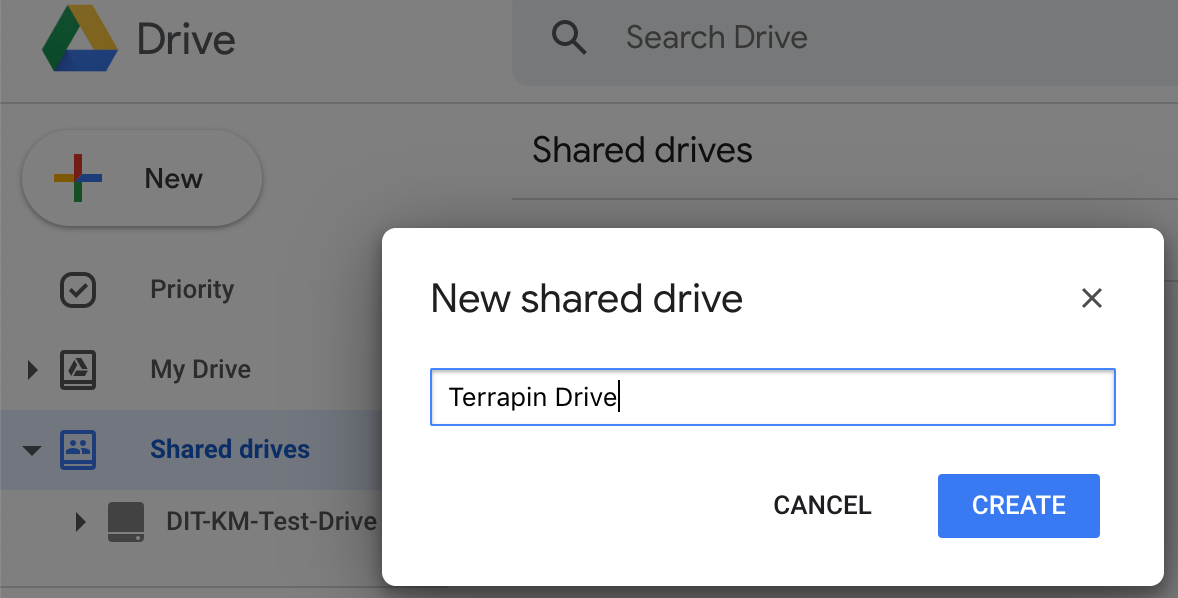 Once you are a member of a Shared Drive, you can perform different actions depending on your level of permissions.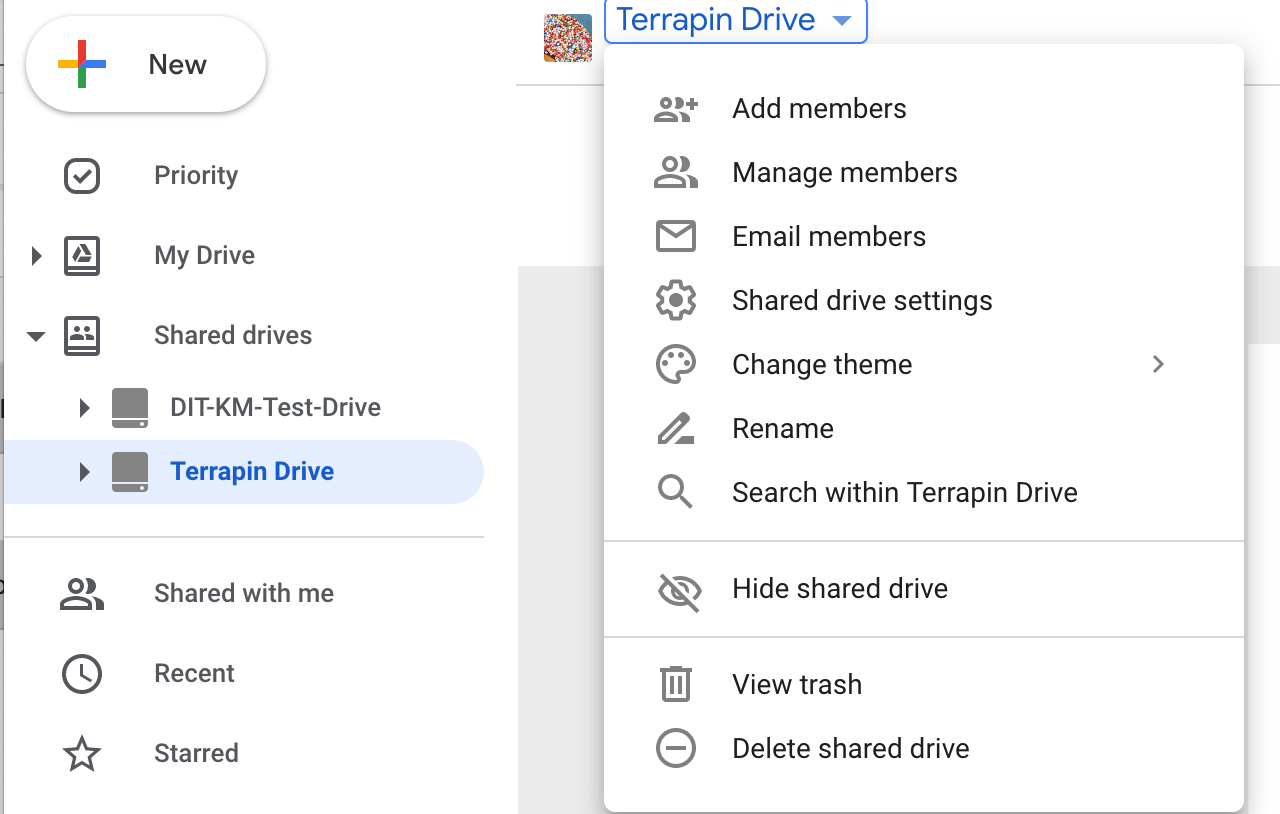 There are five levels of permission to Shared Drives. You should consider granting Manager Access carefully, since these permissions allow the deletion of files and member management.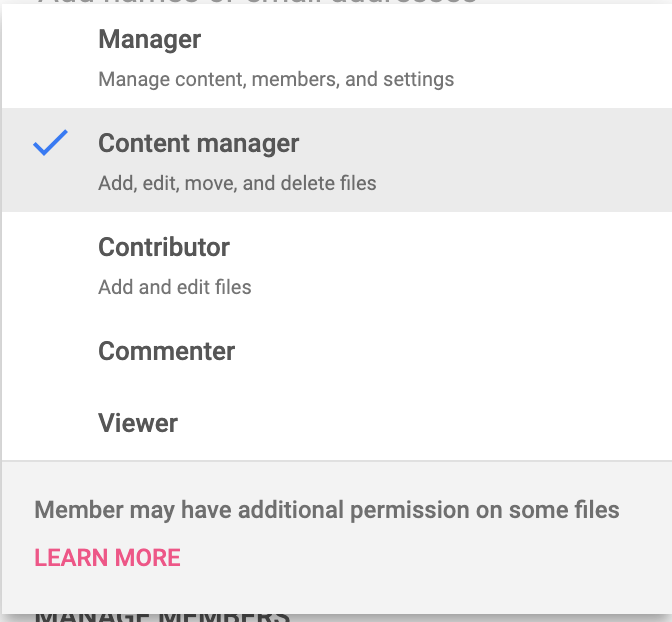 As with a single-owner Drive, you can Drag, Drop, upload, or Create New files. Files created directly in Shared Drives have no individual listed as an owner, and files you drag and drop will be copied as new files with no individual owner (the original will remain at the source).


NOTE: Keep in mind the following important information about Shared Drives.
Shared Drives may be created by any user of the UMD Google Workspace for Education. To prevent confusion, make sure to agree with your coworkers or peers about the Shared Drive you will be saving or creating files in.
Shared Drive naming, membership, and management is the responsibility of Shared Drive members with Full Access permissions. Do not remove all members of a Shared Drive unless you are sure that no one ever needs access to the content again. DIT Admins can add and remove members to Shared Drives if needed, but reserve the right to delete Shared Drives with no membership.
We recommend you name important Shared Drives using your division or department name followed by your Shared Drive name. Example: DIT-ServiceDesk-Special projects.
Shared Drives are limited to 100,000 files.
You may add members outside of the UMD Domain (i.e., person@terpmail.umd.edu).
Shared Drives are backed up with spanning backup. Drive managers may access the backups.