Room Resource Permissions in UMD Google Calendar
Sharing Setting

Who Can See the Room and time blocks?

Who Can Book the Room?

Shared with Members of Organization as See All Event Details

(DEFAULT SETTING)

UMD.EDU Google Users

Anyone

Shared with Members of Organization as See Free/Busy

UMD.EDU Google Users

Only specific people listed in Calendar Sharing settings

Shared Only with individuals (uncheck box for share with everyone at UMD)

Only specific people listed in Calendar Sharing settings

Only specific people listed in Calendar Sharing settings

Shared Publicly as See All Event Details

Anyone

Anyone

Shared Publicly as See Free/Busy

Anyone

Only specific people listed in Calendar Sharing settings
The following image shows the general calendar permissions options.

Make Available to public
Make Available for University of Maryland, College Park
See only free/busy (hide details)
See all event details
The following image shows permissions that can be granted to an individual. Room owners (people with Make changes and manage sharing) can change the Calendar settings to reflect the desired state.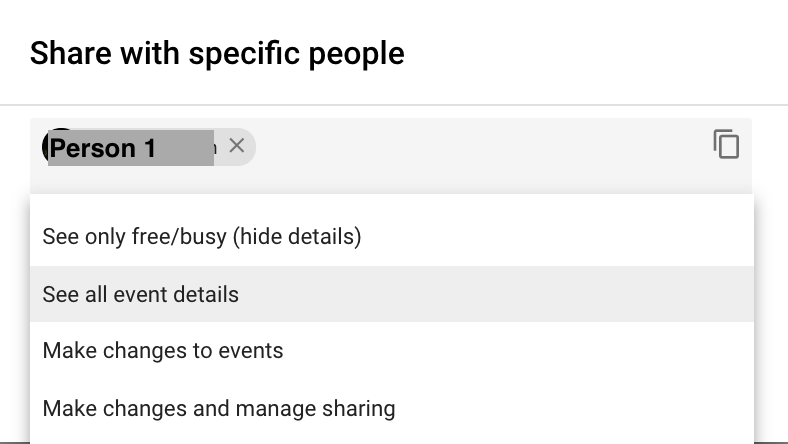 See only free/busy (hide details)
See all event details
Make changes to events
Make changes and manage sharing