Connect to umd-iot WiFi
Table of contents
What is umd-iot for?
The eduroam wireless network requires specific authentication that some devices do not support. Umd-iot (Internet of Things) can connect media devices (like Amazon Echo, Roku, Apple TV) and gaming consoles wirelessly to the internet. Check device compatibility on the umd-iot wireless network.
The umd-iot wireless network is not intended for computers, tablets, smartphones, or any other device compatible with eduroam (WPA2 Enterprise authentication). Connect these devices to the eduroam wireless network.
Who has access?
Current resident students and LAN admins have access to umd-iot wireless network on campus.
NOTE: If you are off campus, you must Connect to GlobalProtect Virtual Private Network (VPN) first.
Resident students will be able to register up to 6 devices.
Faculty, staff and non-resident students must contact their LAN Admin to add a device to the UMD-iot network.

Register a device
Log into mydevices.umd.edu/guest.

Click Device Managed Device (verify the devices you have registered).
Click Create.
Enter your IoT device's wireless MAC address.
Enter a Device Name.
Click the Term of Use checkbox. Click Create.
A unique 12-digit umd-iot password for your device will be generated.
Connect your device to umd-iot with the password provided on the registration page.
NOTE: Devices connecting to the umd-iot network will not be able to communicate with one another at this time.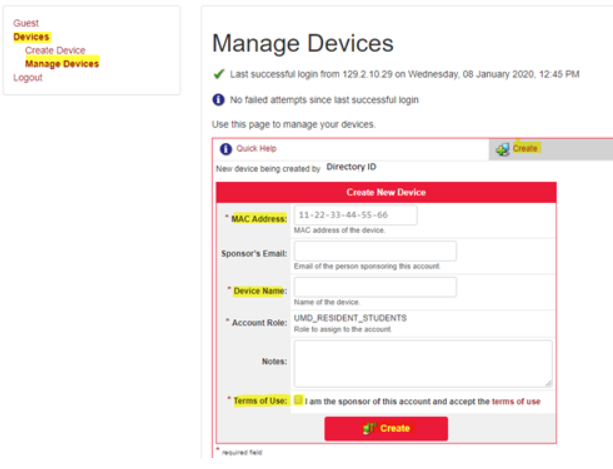 Android 10+ and Apple iOS 14+2 - Disable MAC Randomization
Mac Randomization is a feature that is present and on by default in Android 10+ and iOS 14+ devices. This feature can be disabled for specific WiFi networks. See below for details on how to disable this feature on different devices. This information is referenced from the Android/Apple iOS 14 & Later - Disable MAC Randomization article.
Google Pixel / Motorola / other Androids
Open the Settings.
Select Network and Internet.
Select WiFi. Connect to the Wireless network.
Tap the gear icon next to the current connection.
Select Advanced.
Select Privacy.
Select Use device MAC.
Samsung Galaxy
Navigate to Settings.
Select Connections.
Select WiFi.
Select the Wireless Network you wish to connect to.
Tap the gear-shaped icon next to the network you are connected to.
Select Advanced.
On the next screen, there is a menu labeled MAC Address Type. Tap on MAC Address Type.
Select Use Phone/Device MAC.
Apple iOS 14 & later
Ensure your device is connected to a Wi-Fi Network.
Open Settings, then tap Wi-Fi.
Tap the Information icon next to your network.
Tap on the Use private Address toggle to turn it off.

After, a privacy warning will pop up.